2020 Tour Dates – Norwegian Cruise Lines
Sun:        Feb 12-22                  Port Canaveral
Dawn:     Feb 23 – March 8      Tampa
Pearl:      March 27 – April 19  Miami
Sky:        April 20 – May 6       Miami
Gem:      June 5 – 19                  Boston
Sun:        July 24 – August 13    Seattle
Pearl:      October 16 – 30          New York
Sky:        Nov 23 – Dec 11         Miami

2019 Tour Dates
September 11-18   Norwegian Cruise Lines Dawn 
October 4-11           Norwegian Cruise Lines Gem 
October 13-21         Norwegian Cruise Lines Jewel 
Carnival Splendor
11/28-12/6
Leaving Long Beach, CA on November 28, 2018
Ports: Long Beach, Maui, Honolulu, Kona, Hilo, Ensenada, Long Beach
---
Two Weeks at the Comedy Zone, Jacksonville, FL
12/12-15 and 12/19-22
From the Comedy Zone Website:
"Carl Strong has shared the stage with such entertainment luminaries as Gladys Knight, Chaka Kahn, Dionne Warwick, Guess Who, and Smokey Robinson. His universal appeal is reflected by the varied venues in which he has performed. From "An Evening at the Improv," and the BET Network to "Politically Incorrect," "Comedy Central," "Full Frontal Comedy" and MTV's "Half Hour Comedy Hour," Carl Strong has the ability to entertain…anyone!"
Plan a trip to sunny Florida today. Get your tickets to see Carl at: https://comedyzone.com/#event|carl-strong-2|2082
---
Holland America Prisendam
12/29/2018 – 1/12/2019
A FOND FAREWELL – The intimate Prinsendam has occupied a special place in the hearts of Holland America Line guests and now after nearly 17 years of service, she is leaving the fleet on July 1, 2019. All her itineraries will continue as planned through July 1 , 2019. There is still time to celebrate this beloved ship. Join us for one of her upcoming farewell sailings and experience all of Prinsendam's many pleasures for a final time.
---
Carnival Sensation
1/16-19, 2019
Ports of Call Day 1 Miami, Florida
Day 2 Nassau, Bahamas
Day 3 Half Moon Cay, Bahamas (Private Island)
Day 4 Grand Turk
Day 5 At Sea – –
Day 6 Miami, Florida
---
Carnival Dream
1/31 – 2/6, 2019
Set sail with the Carnival Dream and prepare for seven days of refreshing cruising around the Caribbean from New Orleans and back again!
Calling on rare destinations such as Belize City and Roatan makes this sailing notable. This route is a typical one for the Dream.
Ports of Calls
SUN, JAN 27 New Orleans, LA 4:00PM
MON, JAN 28 At Sea
TUE, JAN 29 At Sea
WED, JAN 30 Roatan, Honduras 8:00AM 6:00PM
THU, JAN 31 Belize City, Belize 8:00AM 5:00PM
FRI, FEB 1 Cozumel, Mexico 7:00AM 5:00PM
SAT, FEB 2 At Sea
SUN, FEB 3 New Orleans, LA 8:00AM
---
Norwegian Cruise Lines Gem

2/18-25, 2019
Depart New York, New York (EMBARK)
Thu San Juan, Puerto Rico
Fri Basseterre, St. Kitts
Sat Castries, St. Lucia
Sun Bridgetown, Barbados
Mon St. John's, Antigua
Tue St. Thomas, US Virgin Islands
Fri New York, New York (DISEMBARK)
November and December may mean cold weather for the Big Apple, but it's always summertime in the Caribbean. Your first stop on this 11-day cruise through the islands is Puerto Rico, where the secrets of Old San Juan are yours to uncover — stroll this historic, walled neighborhood brimming with 16th- and 17th-century Spanish colonial buildings. In lush St. Lucia, hike at the base of the Piton peaks or take a dip in the deep-blue Caribbean Sea. Keep your camera ready when in St. John's to photograph the only working Georgian dockyard in the Eastern Caribbean as well as the breathtaking views over sailboat-studded English Harbour. Back in New York, make time to reflect at Ground Zero, stroll stunning Central Park, peruse The Guggenheim or the American Museum of Natural History, or even take in a Broadway show.
---

Funny Stop

in Cuyahoga Falls, OH
March 14-16, 2019
For tickets and information, be sure to visit the Funny Stop's website here.
---

Corporate Event
April 11, 2019
---
Norwegian Cruise Lines Gem
May 31 – June 7, 2019

SHIP: GEM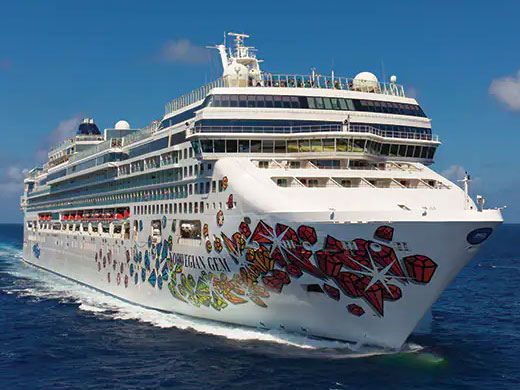 SHIP HIGHLIGHTS
Through The Norwegian Edge, Norwegian Gem has undergone ship wide enhancements. Come on board and experience newly designed public areas, revamped Haven spaces, fresh decor, modern finishes and more!
Revive, refresh and recharge in the Mandara Spa® and Body Waves Fitness Centre. Start with a hot-stone massage, one of over 50 specialty treatments offered by the well-trained massage therapists. Then unwind in the Thermal Suite with a steam or dip in the Vitality Pool.
Join the party at the liveliest nightspots on the ship, Bliss Ultra Lounge & Night Club, which features a stylish bar area and swanky lounge.
---

Corporate Event – June 20-21, 2019
---
Spectacular Juneau with Norwegian Cruise Line
August 12-26, 2019
Freedom, flexibility, and fun is at the core of a cruise vacation onboard the Norwegian Jewel. Unconstrained by set meal times, you are free to dress, wine and dine as you wish at 16 fabulous complimentary and specialty restaurants, lounges and bars on board. The Norwegian Jewel features a great variety enthralling entertainment options, such as the Magic Show and the marvelous Le Cirque Bijou. The Norwegian Jewel entertains up to 2,376 guests on sea days with an outdoor sports complex, video games room, casino, art gallery, and a range of age-appropriate facilities to keep the kids entertained. Be sure to pamper yourself at the Polynesian-inspired Bora Bora Health Spa and Beauty Salon and rejuvenate at the fully-equipped Body Waves Fitness Center. Experience your dream cruise vacation to Asia and Alaska on board the Norwegian Jewel.
Ports of Call
1 Anchorage (Seward), Alaska
Embarkment
2 Hubbard Glacier, Alaska
3 Icy Strait Point, Alaska
4 Juneau, Alaska
5 Skagway, Alaska
6 Ketchikan, Alaska
7 Cruising
8 Vancouver, British Columbia
Disembarkment
---
Norwegian Cruise Lines Dawn
September 11-18, 2019
Take a stroll through Charlottetown to see the beautiful Victorian architecture and visit the many historical landmarks, such as Province House and St. Dunstan's Roman Catholic Basilica. In Nova Scotia, you can experience the haunting majesty of Halifax. Make your way from the second-largest natural harbor to Halifax Common, the oldest public park in Canada. Then scale Citadel Hill to visit Fort George and the Halifax Clock Tower. Maine's most populous city Portland will leave quite an impression with its incredible architecture and cuisine. Visit one of the many museums and then make your way to the Arts District to indulge in one of the many restaurants. See a new side of Canada & New England with Norwegian.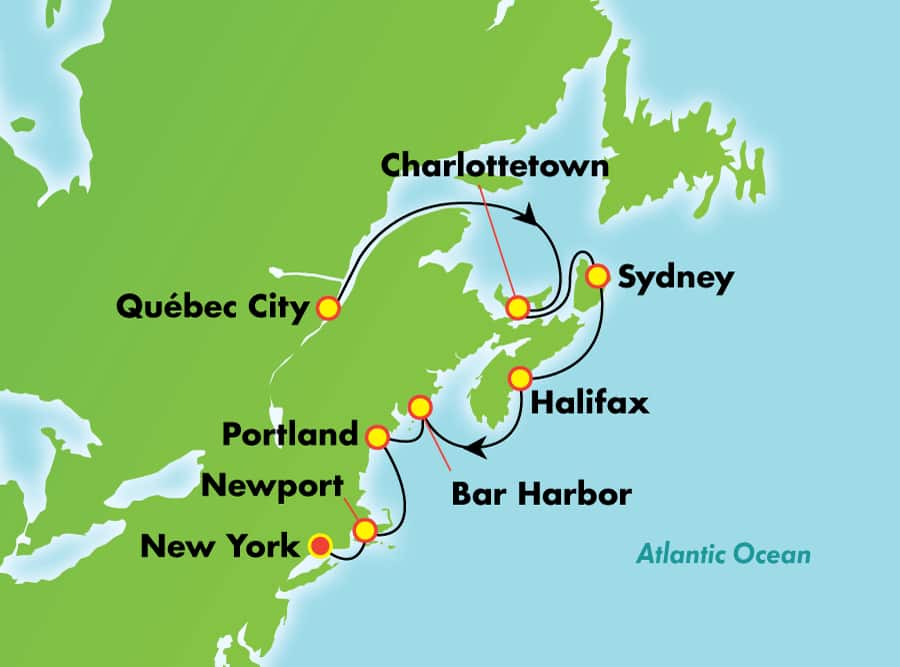 9-Day Canada & New England from Quebec
Ports of Call
Wed – Quebec City, Quebec (EMBARK) — Overnight
Thu – Quebec City, Quebec –
Fri – At Sea — —
Sat – Charlottetown, Prince Edward Island
Sun – Sydney, Nova Scotia
Mon – Halifax, Nova Scotia
Tue – Bar Harbor, Maine
Wed – Portland, Maine
Thu – Newport, Rhode Island
Fri – New York, New York (DISEMBARK)
---
7 Night Canada and New England from Boston Cruise
October 4-11, 2019

About Norwegian Gem
Onboard, you'll find 12 unique places to eat and 11 exciting bars and lounges where you can just hang out. There's even a bowling alley (a cruise industry first!) and rock climbing wall onboard.
Norwegian Gem Overview
The Norwegian Gem offers people of all ages a fun experience. Starting in the morning, passengers can be found at the buffet or laying out on the pool deck. In the afternoon there are lectures, basketball courts and a climbing wall to take advantage of on the Norwegian Gem. The evening brings a chance to check out one of the ship's tasty specialty dining restaurants like La Cucina Italian Restaurant or one of the grand dining rooms like Magenta. Keep your blood pumping with a spin on the dance floor or a magic show before retiring to your comfortable stateroom.
---
Past Events
The Carl Strong Experience
April 19-27, 2018
Norwegian Cruise Line
Acapulco, Mexico
May 4-6, 2018
Carnival Cruise Lines
May 19-28, 2018
Carnival Fantasy
June 5, 2018
Carnival

June 23-28, 2018
Carnival Paradise
June 30-July 5, 2018
Carnival Ecstasy

July 9-14, 2018
Carnival Fantasy
July 23 – 28, 2018
Carnival Valor

August 27-September 1, 2018
Carnival Cruise Elations
Past Tour Dates
March 19-29, 2018
Carnival Valor
Out of Galveston, TX
March 31-April 14, 2018
Carnival Triumph
Out of New Orleans
April 19-27, 2018
Norwegian Cruise Lines Sun
Out of Ft. Lauderdale
In Concert for the Fijian 'Islanders'.
Touring the Islands of:
1) Dravuni
2) Lautoka
3) Suva, Viti Levu
Crossing the International Date Line
4) 3 Days and Nights in Pago Pago, Tutuila.
Back on the Holland American Cruise Ship –
by Popular Demand
New Zealand and Australia Aboard Holland Cruise Lines

THE CARL STRONG EXPERIENCE
LIVE IN NEW ZEALAND – LORD OF THE STAGE !!!!!!
HOLLAND CRUISE LINES – NOV. 29 – DEC 29, 2017
3 Different Ships
The Amsterdam
The Maazdam
The Noordam
Beautiful New Zealand!
Discover natural wonders, fascinating cultures and new friends.
The Lands Down Under have their own special allure. The scenery is spectacular, from New Zealand's jagged, snow-capped peaks to Ayer's rock, a massive feldspar outcropping in Australia's desert outback, to the Great Barrier Reef, a living organism so large it can be seen from space. Here the majestic and beautiful collide with the utterly unique. Home to numerous plant and animal species found nowhere else on earth, Australia, New Zealand and the South Pacific are on any serious traveler's bucket list—and there's no better way to experience them than on a Holland America Line cruise.
Carnival Glory November 8-15, 2018
Belize. Mexico. Nassau
The Meyer Theatre in Green Bay, WI November 17, 2017
'Universal Laughter: a Joyful Heart is Good Medicine"
May/June 2017
HOLLAND AMERICA – ms Volendam
14-DAY PASSAGE TO SPAIN ABOARD
the fabulous 'HOLLAND AMERICA'
DEPARTS: Fort Lauderdale, Florida on March 30th, 2017 US ARRIVES: Barcelona, Spain
Check out the full itinerary
Take a look at the nightly entertainment available on this cruise ship. Mr. Strong is very grateful to be a part of this thrilling line-up.
Carnival Elation
February 11-16, 2017
THE BAHAMAS FROM JACKSONVILLE, FL
Carnival Miracle
THE MEXICAN RIVIERA FROM LOS ANGELOS
March 1-4th, 2017
March 4-7th, 2017
The Royal Princess
*Ft. Lauderdale, Florida
*Costa Maya (Mahahual), Mexico
*Island of Cozumel, Mexico
*Ft. Lauderdale, Florida
*Thursday, October 27
'The Sanctuary' – Solitude seekers will be able to escape completely to this plush, outdoor spa-inspired setting with signature beverages, light meals, massages, attentive service and relaxing personal entertainment.
---
The Caribbean Princess
November 19-24, 2016

Ft. Lauderdale, Florida
At Sea
At Sea
Curacao
Aruba
Bonaire, Caribbean Netherlands
---
The Grand Princess – Hawaii Islands
Frequent Tour Dates
Port of Call – The Island of Kauai
The fourth largest island in the Hawaiian group, Kauai is known as the "Garden Island." The terrain ranges from the volcanic slopes of Mt. Waialeale and the desert-like beauty of Waimea Canyon to the Wailua River's lush Fern Grotto. Ironically this once isolated island was the site of the first meeting between Europeans and Hawaiians. On January 19, 1778, Captain James Cook anchored his ships off the mouth of the Waimea River, becoming the first in a long line of enthusiastic visitors.
Kauai was never conquered by the great